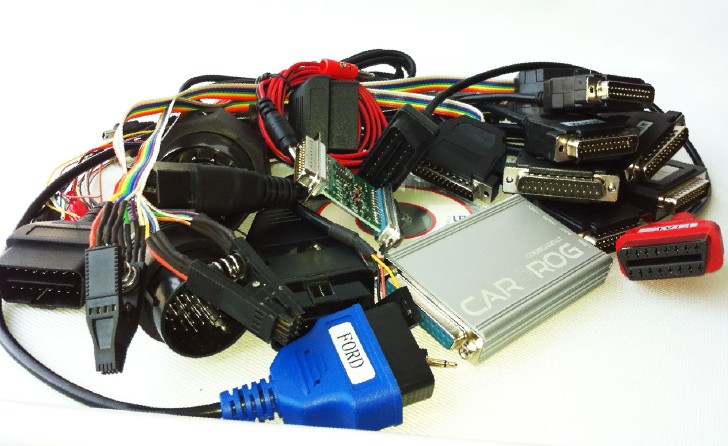 CARPROG was designed with regard to demands of our customers to have universal tool for odometers, dashboards, immobilizers repair, ECU repair, car radios, including advanced functions like EEPROM and microcontroller programmer, key...
Product Introduction:
1. Softwares:
ECU-OPEL - OPEL login reader from motor hybrid ECU. Works with Bosch ME1.5.5, Siemens SIMTEC71, SIMTEC71.1, Delco Diesel, Delco Multec. OPELCAN - Opel ECU by CAN programmer - read/change mileage in EDC16, MT35E, HSFI 2.2 read PIN, reset ECU . PSG16 - Opel PSG16 diesel pump by OBDII - read/change mileage, read PIN, reset ECU. OPEC28 - Opel Siemens Simtec ECU Tool Advanced
2. CarProg Airbag:
VAG (Audi, VW, Skoda, Seat) Airbag Reset . BMW Airbag Reset . Mercedes Benz Airbag Reset . FORD Airbag Reset
CARPROG CR16 Airbag . Audi, Mercedes, Ford, Volvo.
Airbag Reset: Renault , Peugeot , Citroen, Honda, Audi, Ford, Hyundai, KIA, Lexus, Rover, Mazda, Mitsubishi, Nissan, Mercedes Benz, Opel, Saab, Subaru, Toyota, Alfa Romeo, Fiat, Porsche, Suzuki, Volvo.
3. CarProg Dash: VAG CAN , Dashboard programming , Fiat KM correction by OBDII , Mercedes Benz ASSYST explorer , Volkswagen, Skoda , Seat, Audi , Ford , Audi 2J74Y repair
4. CarProg Immo: Toyota Key, Lexus key, Daihatsu Key, BMW Key, Mercedes Benz Key, RENAULT Megane/Scenic infrared key, Kessy tool - A8, Touareg, Phaeton, Cayenne PIN code reader
5. CarProg Processor: Motorola (Freescale) HC05, HC11, HC08, 912 and 9S12 MPU programmer.
6. CarProg Programmer: ST92 - ST92F120, ST92F150, ST92F250 internal EEPROM programmer
7. CarProg Radio Code: CC1, CC2, CCN, Philips Car Radio decoder, Renault Car Radio decoder by serial number. Audi/VW/Seat/Skoda car radio decoding , * RNS510 - Navigation decoding tool by Navi diagnostic
Packing:
1: CarProg Main interface
2: A1 - OBD2 Adapter Cable
3: D1 - Odometer-airbag Adapter
4: A3 - Transponder Antenna
5: A10 - Motorola Adapter Cable
6: A11 - BMW EWS Adapter Cable
7: A16 - Car radio Cable
8: A15 - Cable
9: A17- Honda Airbag OBD2 Cable
10: A4 - Eeprom Adapter Cable
11: A5 - DIP8 Clip Cable
12: A6 - SOIC8 Clip Cable
13: A7 - MB 38-Pin Cable
14: A8 - BMW 20-Pin Cable
15: RNS510 Adapter Cable
16: VOLVO FORD CAN 2006+ Cable
17: FIAT CAN 2006 Cable
18: C1 OBD2 Female Cable
19: USB Cable
20: Power cable
21: CD